Louisville
Car Accident Lawyer
Louisville Car Accident Lawyer Tate Meagher Represents Car Accident Victims in Louisville and Throughout the Region
Were you hurt in a motor vehicle crash? A Louisville car accident lawyer may be able to help. Even safe, skilled, and attentive drivers in Louisville are involved in accidents. Automobile collisions are consistently a leading cause of accidental injuries and accidental fatalities. The aftermath of a car accident can be a frustrating and confusing time. In addition to dealing with your injuries, you may also be facing hefty medical bills. These expenses shouldn't be your burden to bear alone.
At Meagher Injury Lawyers, our Louisville car accident attorneys fight tirelessly to help victims and families get justice and the compensation that they need to pay their bills. If you or your loved one was hurt in a crash, we are more than ready to help you navigate the claims process. Trusted Louisville car accident lawyer Tate Meagher is dedicated to getting you the maximum compensation you're entitled to. Call our Louisville office today for a free consultation.
Car Crashes are Major Public Safety Hazard: An Overview of the Data
Serious motor vehicle collisions are reported every day in our region. According to the 2021 report from the Kentucky State Police, there were 131,208 car crashes reported on roads in the Commonwealth in 2021 alone. A total of 30,044 people were hurt in the crashes, with many of those injuries being severe and even life-changing. Tragically, there were 806 people killed in crashes on public roads in Kentucky in 2021. Another 10 people lost their lives in car accidents that occurred on private roads or in parking lots. For reference, 14,382 accidents (more than 10 percent) happened in Jefferson County.
What Steps to Take to Protect Your Rights After a Car Accident in Louisville, Kentucky
Following a car crash in Louisville, it is normal to be stressed and confused. Too many people make errors in the aftermath of a collision that actually undermine their own interests. If you find yourself involved in an accident, it is crucial that you know the right steps to take to ensure you receive the appropriate compensation for your injuries and damages. Here is what to do after a Louisville crash:
Stop Your Vehicle and Exchange Information With Other Parties: Immediately after the accident, make sure you stop your vehicle and assess the situation. If it is safe to do so, move your vehicle to the side of the road to avoid blocking traffic. Kentucky law requires all parties to a collision to stop their car and remain at the scene. Failure to do so could be a criminal violation. The only exception is for medical emergencies. Get information from other drivers, including things like names, addresses, phone numbers, driver's license numbers, license plate numbers, and insurance details.
Report the Accident to State or Local Law Enforcement: Under Kentucky law, you are required to report a car accident if it results in injury, death, or property damage exceeding $500. Not only is reporting a crash a legal obligation, it is in your best interests. Make sure that your collision is reported to the Kentucky State Police, Jefferson County Sheriff's Office, the Louisville Metro Police Department, or another agency. The responding officers will likely create an accident report, which can be valuable when negotiating with insurance companies or pursuing legal action. Be sure to request a copy of the report for your records.
See a Doctor for Any Injuries (Emergencies Take Priority): If you or any other party involved in the accident has sustained injuries, seek immediate medical attention. Of course, emergency medical needs always take priority. You should get medical care for severe injuries right away. Non-emergency injuries still need to be assessed by a doctor. Keep copies of all medical records, bills, and receipts, as these will be crucial in determining the extent of your damages and the amount of compensation you may be entitled to receive.
Comprehensively Document the Accident and Your Damages: Gather as much evidence as possible to support your claim. Take photographs of the accident scene, your vehicle, and any injuries sustained. Collect contact information for any witnesses who may have seen the accident. Even though Kentucky has a no-fault insurance law, you still need to thoroughly document the crash. Documentation can help strengthen your case and protect your rights.
Speak to a Louisville Auto Accident Attorney Before an Insurer: Before speaking to an insurance company or signing any documents, consult with a skilled Louisville auto accident attorney. Insurance companies often aim to minimize their payouts and may not have your best interests in mind. An attorney can help you understand your rights, review your claim, and negotiate with the insurance company on your behalf. The insurance company is not on your side. Your Louisville car accident lawyer will protect your rights and interests. 
We Help Victims and Families in Louisville Maximize their Financial Compensation
Hurt in a crash in Louisville? It is imperative that you have access to the full and fair compensation that you need to pay bills, support your family, and put the pieces back together. Kentucky law allows car accident victims to seek compensation for both economic and non-economic losses. You cannot rely on an insurance company—either your own or third-party company—to protect your rights or your interests. At Meagher Injury Lawyers, our Louisville car accident lawyer goes above and beyond to help victims and families maximize their recovery. Money damages may include:
Vehicle damage (repairs or replacement).
Ambulance costs and emergency medical care.
Hospital bills and other healthcare costs.
Physical therapy and mental health support.
Lost wages and loss of earning potential.
Pain and suffering & mental distress.
Long-term disability or permanent disfigurement.
Wrongful death of a family member.
Our Firm Handles the Full Range of Motor Vehicle Accident Claims
We are a justice-driven, reliable personal injury law firm with extensive experience handling the full range of motor vehicle accident claims in Louisville and throughout all of Jefferson County. No matter how or why your crash happened, our attorneys are committed to providing comprehensive legal support, navigating complex insurance claims, and helping injured victims maximize their recovery. Along with other types of motor vehicle accident claims, we have experience with:
Car accidents
Commercial truck crashes
Motorcycle collisions
Pedestrian injuries
Bicycle accidents
Uber/Lyft accidents
Drunk driving collisions
Fatal accidents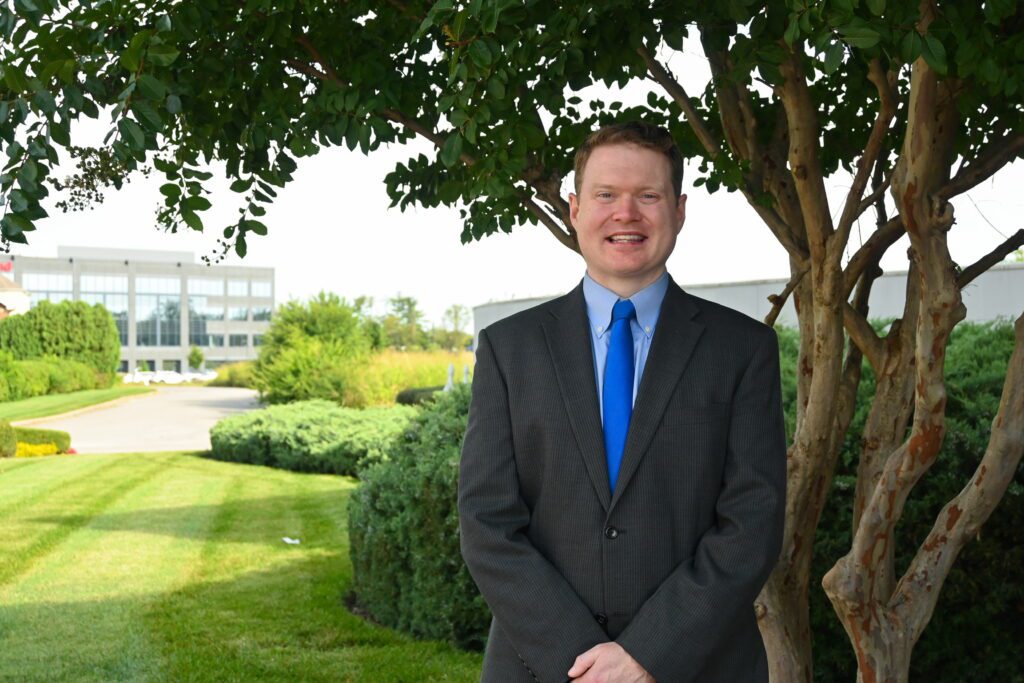 KENTUCKY
Auto Insurance Laws
Kentucky is a no-fault state, requiring drivers to get no-fault insurance. This typically covers the first $10,000 in medical expenses, some lost wages, and other expenses that may arise from a car accident, regardless of who is at fault per Kentucky Revised Statutes 304.39-040. No-fault insurance is also known as personal injury protection (PIP) insurance. Don't worry – Louisville car accident lawyer Tate Meagher can assist you in applying for no-fault insurance.
When you have been in a car accident in Louisville, Kentucky, fault will be important for your car accident lawsuit to recover compensation against the other driver's insurance company. Proving fault shows that the other driver's negligent or reckless actions caused the car accident. Attorney Tate Meagher investigates the facts of all cases he pursues to gather the necessary evidence to prove liability against the at-fault party. Even after you have secured insurance, don't be fooled into thinking that the insurance company is on your side and accept their first settlement offer. Be sure to contact your Louisville car accident attorney Tate Meagher to represent you in all insurance negotiations.
It Doesn't Matter
If You Were Partially At Fault
In Your Louisville Car Accident
Per Kentucky Revised Statutes 411.182, Kentucky is a pure comparative negligence state. Accident victims can collect damages even if they are 99% at fault. However, the amount of damages is limited by the party's actual degree of fault. Thus, for example, if it is determined that Driver A is 80% at fault for an accident and Driver B is 20% at fault, Driver A gets to recover 20% of his damages from Driver B's insurer, and Driver B is entitled to 80% of his damages from Driver A's insurer.
Louisville car accidents are not always cut and dry. You may be partially to blame for the car crash. Know that once you've retained us as your Louisville car accident lawyers, you can divulge the full details of the auto accident, even the parts that don't go in your favor. Our experienced car accident lawyer at Meagher Injury Lawyers can help assess your automobile accident. Hence, you know what to expect in terms of settlement or trial and have a better idea of what your personal injury claim is worth.
Our Louisville
Car Accident Lawyers
Can Help Recover Your Losses
If you've been injured in a car accident, you're likely dealing with a slew of rising expenses. Between medical bills, vehicle repair costs, and lost income, your finances may be just as impacted by the car crash as your physical health. Our Louisville car accident lawyers will negotiate with the other party's insurance company to ensure you get full and fair compensation. In addition to recovering your financial losses, your personal injury lawyers will also advocate for the appropriate compensation for your pain, suffering, and trauma.
Remember, insurance companies are trying to pay out as little as possible. You may be tempted to take the first offer you get, or you may end up settling for less than what your case is worth. With a dedicated personal injury lawyer on your side, you can be sure you're getting the best possible settlement.
What Kind Of Serious Injuries
Are Eligible For Compensation
In Louisville?
There are several types of injuries that may result from a car, truck, or motorcycle accident. The type and extent of injuries suffered will directly affect the value of your car accident claim.
Here are some of the most common auto accident injuries.
Whiplash is possibly the most common car accident injury. Whiplash occurs when there is a sharp and sudden movement of the head and neck, typically as a result of the collision from the crash. Whiplash can cause damage to the neck and back, including herniated and bulging discs, and the severity of injuries often depends on the victim's prior health history.
Back injuries are also common car accident injuries in a car crash. When a car crash victim's spine is damaged, this can impair movement and sensation in the back and all of the victim's extremities. Back injuries can sometimes be the costliest to treat because they often require extensive rehabilitation, surgery, and years of therapy or pain management.
Concussions are common in motor vehicle accidents. High-speed collisions can result in a blow to the head through contact with the vehicle's steering wheel, airbag, dashboard, headrest, or window. Traumatic brain injuries (TBIs) can range from mild to serious and cause long-term cognitive and motor skill deficiencies.
Scars, Bruising, And Lacerations
Many car accident victims suffer scrapes, bruises, and scratches as a result of the impact of the collision. Depending on the injury's severity, a victim can sometimes end up with permanent scarring and disfigurement.
Car accidents can be devastating as the body absorbs tremendous force; it can sometimes cause one or more bones to break. Fractures to the arm, legs, ribs, hip, wrist, face/skull, back, neck, clavicle, and other body parts are possible in car accidents.
Common shoulder injuries in car accidents include impingement or tears of different shoulder ligaments or a torn rotator cuff. Shoulder injuries are some of the most powerful to suffer, and the recovery from rotator cuff surgery is often described as very painful and difficult.
Knee injuries from a car accident are typically caused by bracing for the impact or the knees striking the underside of the dashboard or other parts of the car. Many people do not realize their knee is injured until several weeks after the car accident and write the pain off as just bruising. Knee injuries must not be overlooked as they can plague many people for their entire life and failing to treat a potential knee injury adequately will not help the healing process.
In the most tragic cases, the driver, passenger, or pedestrian is killed due to a car accident. There are specialized rules and regulations in place for wrongful death claims under Kentucky law. If your family member was killed in a motor vehicle crash, our Louisville fatal car accident lawyers are standing by, ready to help you fight for justice. We are compassionate advocates for grieving families. Our law firm will handle all of your legal needs so that you can focus on healing.
The Most Common Reasons Why Car Accidents Happen in Kentucky
Car accidents are an unfortunate reality in Kentucky. As noted previously, there are more than 14,000 motor vehicle crashes reported in Jefferson County alone each year. While there are numerous factors that contribute to these incidents, some causes are more common than others. By understanding these reasons, drivers can take precautions to avoid dangerous situations and reduce the risk of collisions. Here are the most common reasons why car accidents happen in Louisville, Kentucky:
Distracted Driving: Safe driving takes focus. Distracted driving—texting, eating, adjusting the radio, etc—is one of the leading causes of accidents in Kentucky and across the country.
Speeding: Exceeding the speed limit or driving too fast for road conditions can lead to a loss of control and increase the severity of an accident.
Drunk Driving: Alcohol impairs a driver's cognitive abilities, reaction time, and decision-making skills, significantly increasing the risk of an accident. Drugged driving is also a serious public safety problem.
Reckless Driving (Aggressive Driving): Tailgating, weaving around other cars, extreme speeding, and other dangerous behaviors can lead to collisions.
Running Red Lights and Stop Signs: Disregarding traffic signals is a common cause of accidents at intersections. Many crashes in Louisville happen at intersections.
Weather/Road conditions: Rain, snow, ice, fog, and other weather conditions can impair visibility and reduce traction, increasing the likelihood of accidents. Beyond that, poorly maintained roads can contribute to vehicle damage and accidents.
Vehicle Defects: Defective vehicle components—from faulty brakes to bad tires— can lead to accidents if they malfunction while the car is in motion.
You Have Limited Time
To File A Louisville
Car Accident Lawsuit
The moment you were flung into that harrowing experience, an invisible clock began to tick. Your Louisville car accident attorney will tell you that in Kentucky law, a car accident injury case must be filed within two years from the date of the collision to receive maximum compensation. According to Kentucky Revised Statutes 413.140. that being said, you need to notify your own insurer right away.
This seems like enough time until you factor in negotiations with shifty insurance companies, the time it takes to track down elusive potential witnesses to the car accident, and your own recovery from the motor vehicle accident. There are so many moving parts at play that your best bet is to retain a Louisville car accident attorney to manage your auto accident case. Don't wait, call Tate!
Your Guide to Handling Insurance Adjusters After a Crash in Louisville, KY
When you find yourself in a post-crash scenario in Louisville, KY, your first thought might not be about insurance adjusters. Of course, your health and well-being should always be the top priority. That being said, you need to be prepared to deal with insurance adjusters soon rather than later. These professionals play a crucial role in determining your compensation. Here are four things that injured car accident victims in Louisville should know about insurance adjusters:
Know the Role of the Insurance Adjuster: Understand that adjusters work for the insurance company—not for you and your family. What is their goal? Their objective is to minimize payouts. That is it. Be prepared to advocate for yourself.
Say Less—Beware of Recorded Statements: Always be cautious about what you say to adjusters. Avoid providing a recorded statement without consulting a Louisville car accident attorney, as it may be used against you later.
Do Not Agree to Settlement of Your Claim for Less: Do not feel pressured to accept a lowball offer. Hold out for a fair settlement that accurately reflects the damages you have incurred in the car accident.
Work Through a Louisville Car Accident Attorney: Enlist the help of a skilled Louisville car accident attorney to handle negotiations on your behalf. Your lawyer will be your guide through the legal maze and fight for the compensation you deserve
How Our Louisville Car Accident Lawyer Can Help
Car accident claims are complicated. It is normal to feel stressed, confused, and unsure of what to do after a serious crash. The right lawyer can make all of the difference. With over a decade of experience, Tate Meagher knows what it takes to get the financial award you deserve. Because he's represented insurance companies in the past, he's able to strategize and negotiate for the best possible outcome.Born and raised in Kentucky, Tate is a personal injury attorney passionate about advocating for the rights of injured people. When you reach out to our Louisville law office, you will have a chance to consult with a Kentucky car accident lawyer who can:
Listen to your story, answer legal questions, and explain what needs to come next.
Investigate your crash, gathering evidence of liability and your damages.
Represent you in any settlement talks with the insurance companies.
Take aggressive legal action to get you and your family justice and full compensation
Every car accident claim involves its own set of facts and circumstances. Personalized legal guidance and support from your Louisville auto accident lawyer is a must. You need a personal injury attorney who truly believes in you and your case. We encourage you to hear what our clients have to say and contact our Louisville car accident team today for a free review of your case.
Meagher Injury Lawyers Only Collect Legal Fees When We Win Your Case
Going through an accident is stressful. You should never have to worry about the cost of hiring a personal injury attorney after a serious crash. That's why Tate doesn't collect legal fees unless he wins. At Meagher Injury Lawyers, our commitment to you is simple: we only collect legal fees when we secure financial compensation on your behalf. Our Louisville, KY car accident lawyers prioritize your well-being and fight for your rights. We will handle your auto accident claim on contingency. Initial consultations are free and fully confidential.
Reach Out
to Our Louisville Car Accident
Attorneys for Answers to Any Specific Questions
If you're considering seeking financial compensation for your car accident injuries, you probably have many questions about the process. We provide free, no-obligation consultations to injured victims in Louisville and throughout Kentucky. It is your chance to have your specific questions answered. An experienced Louisville car accident attorney can provide an estimate of how much your case is worthwhile answering any other questions you may have like:
Our firm is also committed to providing victims with the knowledge, resources, and tools that they need to understand their rights and navigate the insurance claims process. We add to our personal injury blog regularly, but if you are more of a visual learner, peruse our site's video resources! If you still need more information, feel free to call Tate! Nothing beats a hands-on Louisville Car Accident Lawyer with years of experience!
Injured In An Accident? Hire An Experienced Louisville
Car Accident Lawyer
To Get The Compensation You Deserve.
With over a decade of experience, Tate Meagher knows what it takes to get the financial award you deserve. Because he's represented insurance companies in the past, he's able to strategize and negotiate for the best possible outcome.
Born and raised in Kentucky, Tate is a personal injury attorney passionate about advocating for the rights of injured people. You need a personal injury attorney who truly believes in you and your case.
That's why Tate doesn't collect legal fees unless he wins.
At Meagher Injury Lawyers, our Louisville car accident attorneys are aggressive, experienced advocates for the people and families who need help the most. We are proactive and justice driven. Don't wait; call Tate! If you've been injured in a car accident, schedule a FREE consultation today or visit us at 9710 Park Plaza Ave., Unit 205, Louisville, KY 40241. From our Louisville office, we handle car accident claims in Jefferson County and throughout Northern Kentucky, including in Jeffersontown, Shively, Mt. Washington, Shepherdsville, Crestwood, and Fort Knox.
MEAGHER INJURY LAWYERS
PRACTICE AREAS
TESTIMONIALS
WHAT OURCLIENTS SAID
I Could Not Have Asked For A Better Lawyer
Mr. Tate Meagher represented me and I could not have asked for a better lawyer. Tate was responsive, kept me updated and in a timely manner, showed empathy and compassion, and worked extremely hard on my case. He not only worked with me, he worked for me, and fought hard on my behalf. Tate always had my best interest at heart. I was extremely pleased with the outcome of my case and I had a wonderful experience under his representation. I would recommend Meagher Injury Lawyers (Tate Meagher) to anyone seeking a lawyer.
Dara
You Need Attorney
Tate Meagher
Attorney Tate Meagher did an outstanding job representing me following a car accident o could not be happier with his services. He is very responsive and he fought very hard for my case. He did not ever give up. So if you are looking for an attorney who will fight hard for you and win, you need Attorney Tate Meagher.
Brandy